Windswept Dunes - A Golf Experience That Transcends The Ordinary
To create a one-of-a-kind golf course, designers must work to preserve as much of the natural vegetation and topography as possible. Windswept Dunes designer and builder Doug O'Rourke has succeeded on all counts. Featuring miles of spectacular white sand dunes (some as high as 20 feet!), large rolling fairways, artful bunkering and excellent conditioning, this track frames itself in rare, unspoiled beauty.
While the 750 acre setting is breathtaking, what makes Windswept Dunes truly remarkable is that there are no crowds, no hustle and bustle at all. Here, off the beaten path, it is easy to be serene; it is natural to be happy.
Located about 30 minutes from the beaches of Destin, 30A and Panama City Beach, we are far enough away from the crowd to enjoy the serene beauty of this course, but still only a hop, skip and jump back to the worlds most beautiful beaches.
The spacious 18-hole is a demanding 7752 yards from the championship tees, but with five additional sets of tees, offers challenge and excitement for golfers of all abilities.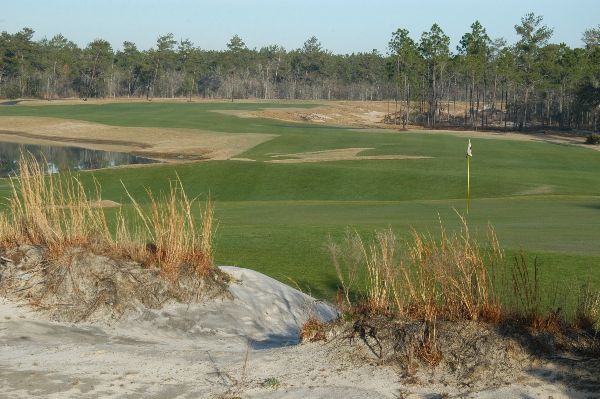 563 yard par 5 Hole #8
As you begin playing the course, you'll know you're in for something special. Lush green fairways are generally wide and generous off the tee. The sand dunes, often stretching from tee to green, present trouble only for the wildly errant shot. Even then, the dunes provide a welcome alternative to a ball lost in a backyard, swamp or lagoon which is your fate at most other courses. In fact, you'll face only a few water hazards at Windswept Dunes.
What the tee shot offers in forgiveness, the approach shot takes away with the need for precision. Bunkers gracefully finger their way around most greens. The greens themselves are large and velvety smooth, demanding a deft touch with the putter.
Each of the dune-lined holes has its own unique character, offering one memorable experience after another. There is simply nothing like it - and no better value - in the area. You'll be swept away!