Unique dune-lined course meandering through 700+ peaceful acres in Northwest Florida.
30 minutes from Destin and Panama City Beach.
20 minutes from the new Northwest Florida Beaches International Airport.
Full practice facilities are also set amidst the dramatic dunes.
Large fairways and wide greens.
Memberships available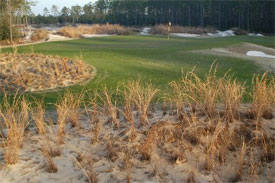 185 yard par 3 #12
We're ideal for golf outings and tournaments. We'll lead your event every step of the way.
USGA announces longest course in the state of Florida.
Voted #5 in the Top Ten Courses you can play by Golf Magazine.
Windswept Dunes Golf Course | 11 Clubhouse Dr - Freeport, FL 32439
Highway 20, 5.5 miles East of the US-331 Junction | Phone: (850) 835-1847

Site developed & maintained by Cybergolf